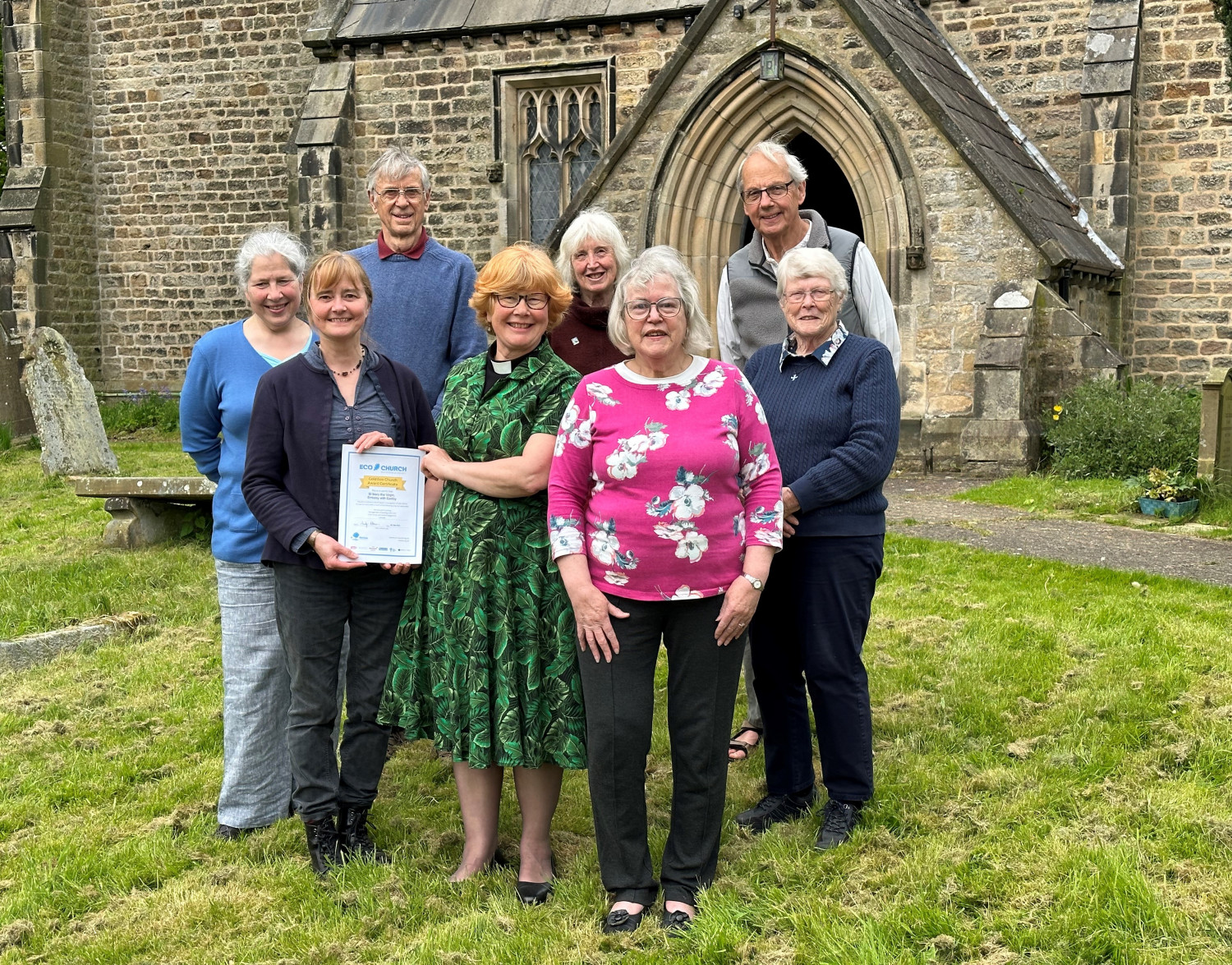 Faith and dedication at St Mary's, Embsay with Eastby, have earned it the first Gold Eco Church award in our diocese.
A Rocha UK Eco Church assessors visited St Mary's earlier this month to judge their bid for the rare Gold Award and Parish Environment Officer, Diana Linford, responded to the good news "We have a small, but very active Eco Group at St Mary's and have the strong support of our vicar and congregation. We do feel that caring for Creation is embedded in the life of our church community and we are delighted to have received the Gold Eco Church Award."
St Mary's Revd Canon Marion Russell commented: "It's a great honour and we are grateful for the Eco Church Award structure and encouragement that comes for A Rocha UK to guide us to think and act more deeply with awareness of caring for God's creation. We are committed to continuing our journey through learning more and sharing in our community and with other churches and groups."
St Mary's is one of only 33 churches in England and Wales to have won a Gold Award.
Diocesan Environment Officer Jemima Parker added her congratulations: "This is a tremendous result and shows just what can be achieved – well done St Mary's!"
In the award letter, Sara Kandiah (A Rocha UK's Eco Church Officer) highlighted the following successes:
The strength of your team and the way you all work harmoniously together and support each other. For a small church there are a large number of people involved in the eco group and you're regularly sharing your journey with the congregation and including them in decision making, particularly around replacement of the gas boiler.
Your ongoing plan for reducing your church's carbon emissions by replacing the gas boiler with electric heating and using a green tariff and your openness to the learning from the 360Carbon website.
Your knowledge and passion and creativity about how to manage your land in a wildlife friendly way and raise awareness within the community too. It was so encouraging to hear about your Churches Count on Nature plans.
Your recycling area is more comprehensive than most - so well done!
It is clear from your church website that caring for creation is a priority.
The team at St Mary's have learned a great deal from their progression through the three levels of award and are very willing to share what they have learned with other churches. Our website https://www.stmaryembsay.org.uk/eco-church/ provides a glimpse of what we have been doing. If you would like to know more, you are welcome to contact us via Marion.Russell@leeds.anglican.org
Photo shows members of St Mary's Eco Group and Carbon Zero Group
Back row L-R: Sue Stearn, Tony Stearn, Liz Roodhouse, Peter Edwards
Front row L-R: Diana Linford (Parish Environment Officer), Marion Russell (Vicar), Lesley Higson (Church Council Eco Rep), Daphne Jepps