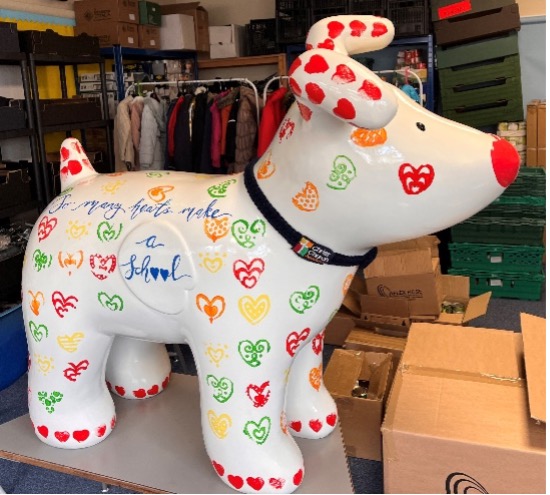 Some of our pupils and staff are showing Kirklees what it means to be at the heart of their school, with their contribution to the Kirkwood Supports Life Art Trail.
Christ Church CE Academy Deighton have painted a snowdog to join the art trail, which will feature some 60 painted pups all around the town to create an interactive art trail.
The school's dog, named Mycca, will join the trail when it launches in Autumn 2022.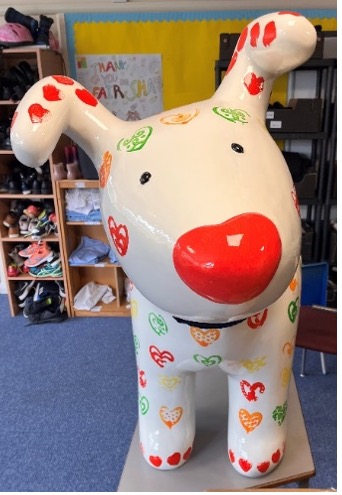 Michala Uttley, Deputy Head at the school, said: "We decided on a plan to decorate Mycca with hearts as the last line of our school prayer is 'so many hearts make a school'.
"In that way, every member of school was able to represent themselves with their own heart stamped onto the pup.
"Every child in school (and staff member) has printed their own heart onto Mycca, in school colours.
"Our snow-pup's name (Mycca - My CCA- pronounced My-ca) was voted for by the children and we feel is a great choice as it embodies the vison and values of our school -my school, my heart, my CCA!
"It's been a real team effort: all the children and staff have heart stamped; the Y6 Head pupils painted the school logo; our Nursery teacher did the calligraphy; and even a mum of one of the teacher's knitted his collar!
"We are extremely grateful to Illingworth & Gregory Ltd, for the generous donation of the snow-pup to our school and the Dulux Decorator Centre for kindly supplying the paint to decorate him.
"It has been a real privilege for us to be involved in this project as we are able to raise awareness for the charity whilst spreading a little of our school ethos out into the wider community."