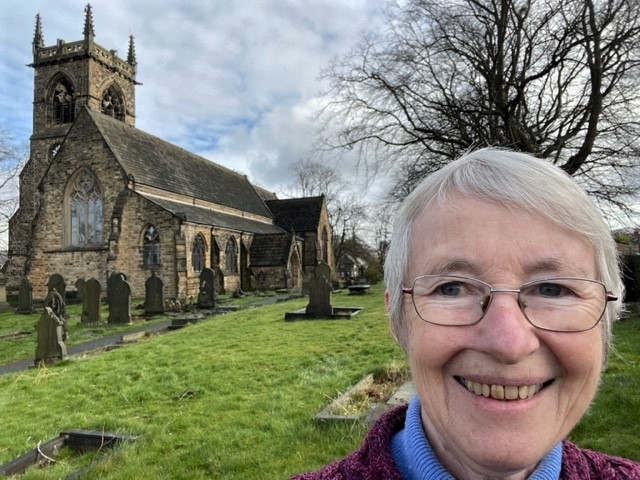 A devoted member of St Mary's, Gomersal has penned a special poem as if written by the church itself, in a bid to raise much-needed funds.
Churchwarden Trees Fewster turned to verse as the 19th Century church needs some £25,000 for repairs and upkeep and she has shared her words on local social media platforms in the hope that the Gomersal community will rally round.
Trees is pictured outside St Mary's and here is her poem:
To the people of Gomersal and beyond.
Since 1851 I have stood guard
As parish church and church yard.
People have come from far and wide
To marry, or mourn those who have died.
I have seen joy and I have seen pain,
I have seen people come back again
To hear the Good News being proclaimed
And babies, christened, being named.
I am open for every big event
To sing God's praise or to lament.
To hear the teachings of the Lord
Of hope and peace and just reward.
I serve the people of Gomersal,
Rich or poor, grown-up or small.
I welcome every one of you
My doors are open, just come through.
My place for worship and for praise
Doubles as social meeting place.
Ladies come to do Keep Fit
Or natter while they sew and knit.
The school will often visit me
Hand in hand, so quietly.
I love it when they come and pray
And learn that Jesus is the Way.
They even come in as young as three
'Tots Praise' they call it – "Follow Me.
I am the Way, the Truth, the Life,
With Me, you conquer every strife."
Those are the words that Jesus said.
And we remember in the bread
And wine, he blessed and broke,
And took upon him our yoke.
So many years have I stood here
I'm looking old and need some cheer.
Plastering, pointing, painting, more,
To look spick-and-span, just as before.
This tired building calls out loud
To you, and you, and all the crowd
From Gomersal and from beyond
And ask you kindly to respond.
Details of the appeal for funds are on St Mary's website where there is the possibility to donate.